Whether the challenge is the creation of a new reporting system, developing and deploying Project Management Institute best practices or the execution of a management consulting firm strategy, our senior consultants will help you succeed.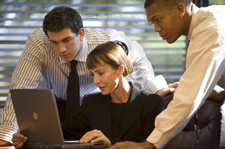 In today's fast paced business world, companies face the challenge of recruiting and hiring appropriately skilled and experienced IT staff to support their dynamic IT organizations.  Client managers find it challenging to garner the appropriate resources with the necessary complex technology skills within short time frames.  CCG Partners, working with your client managers, provide highly trained specialists to collaborate and solve complex business problems within succinct timelines accompanied by prudent budgets.
Experts and business executives have maintained over time that data is a critical and important resource that should be carefully and diligently managed. Like all corporate assets, data requires managing to ensure that the maximum benefit is achieved by the organization. Companies that manage their data expertly provide enhanced services to their customers, giving them the ability to outperform their competitors. This includes a reduction in re-work costs and superior information from which to base their decisions.